All companies will benefit from a thoroughly conducted Competition Analysis. Competitor Analysis is the most popular and one of the necessary marketing tools (recommended for every company, regardless of its size and scope of activity).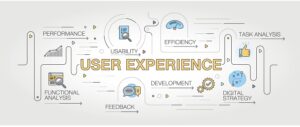 Why is it worth to track ux of competitors?
Identification of good practices
The basis for developing a strategy to stand out
Source of inspiration
Avoiding mistakes
Knowing the standards of a given industry
Identification of problems in an existing product
Basic UX analysis criteria
The criteria taken into account during the analysis may vary depending on the industry or the specificity of the product.
The most commonly used are:
Content – the content of the website in terms of the quality of content, graphics, movies, etc.
Nielsen Heuristics – Key Usability Aspects by UI Norman and the Nielsen Group
Aesthetics
Customer service, communication with the user