A good artist needs good paints to create works of art. Also UX Designers need ux tools for their work.
As a UX Designer you need to know tools and designing software. The most important ones and most commonly used are Sketch and Adobe XD.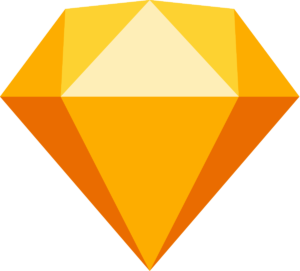 Sketch
Sketch is a wonderful tool for interface design. Sketch is an application that has recently won the hearts of everyone who design UI or UX, although in fact Sketch is a program that anyone can learn. In addition to numerous advantages, Sketch also has one big disadvantage – it is only available for the Mac OS platform.
Adobe XD
Do you want to design interfaces quickly and conveniently? Adobe XD is an extremely versatile tool for UI / UX Designers, because in addition to design, it allows you to create interactive prototypes. The latest XD updates make it an extremely useful application that keeps up with industry standards such as Sketch and Figma … and offers many unique solutions for Adobe CC users.
Zeplin
Thanks to Zeplin you will be able to collaboarate with your team to build powerful templates. Zeplin shortens the coding time of templates. Perfect for cooperation between a Graphic Designer and Developer. The only drawback is that it does not currently have a desktop application for Linux. This application shows us the view of the project exported by a graphic (from Photoshop or Sketch).
UXPin
Also UXPin will be useful for mockups design. UXPin has extensive design and prototyping options. Quite recently it has been expanded to include "systems" – a tool to support building and managing design systems. UXPin doesn't have a free version, but you can get the simplest, truncated version for just 9 bucks a month. UXPin is a really solid solution.
A part of your job you will spend on prototyping. Use Principle and Axure for that.
Principle
Principle is a great program for making simple animations, and at the same time it is easy to use. If you've ever dealt with Flash, it's a tear in your eye at all, because the keyframe animation on the axis looks very similar. Principle is a good supplement to Sketch, the files of which can be uploaded to Principle and work on previously created graphics, animating them appropriately.
Axure
Axure is such a foundation among prototyping tools and sooner or later you will come across it somewhere. This is perhaps the most extensive prototyping tool that allows you to create intricate interactions and logical conditions. In Axure you can make a prototype very similar to the product you are creating.
ProtoPie
Something more basic but easier to use is ProtoPie. Try it if you need some easier alternative. ProtoPie is kind of a Sketch for Windows users. PtotoPie is a prototyping program, so it's not limited to just animations. It has some nice features that I will be testing with the UI Tools series. In this program, we animate individual interface elements, and we can also set the types of transitions between individual screens.
Invision
Invision is the one their creators advertise as better than Sketch and Adobe Xd. Are they right? Invision in combination with Sketch or Photoshop is quite a popular solution. Because it is nothing but a design program plus a tool that will allow us to add interactions to projects. The undoubted advantage of Invision is that it is free and allows for really comfortable cooperation with the team. It is also a convenient tool for collecting feedback from customers.
Marvel App
Marvel App is the one which allows you to create interactive mockups. This is one of the most convenient prototyping tools for me, especially if you don't have to shove some kind of logic into the prototype. And it works similarly to Invision – that is, we will have to create views in the program (e.g. graphic) to transfer them to Marvel and link them accordingly. The interface is simple to use and I believe you can learn it the first time you approach prototyping.
Figma
For team collaboation try Figma. Figma is rather an application for creating projects, but it has built-in functions of transitions, which can be additionally styled (e.g. with an animation type). So with very simple prototypes, it should work well.
Google Analytics
As UX Designer you are also an analyst. For internet analytics you may need Google Analytics service.
Draw.io
Draw.io Diagrams tools is recommended software for diagrams and flowcharts. It is free!
Morae
Check Morae. Morae is a set for researching, observing and recording user interactions with a website or a given application. After recording a session, Morae Manager allows you to efficiently analyze the recorded data, automatically presenting graphs etc.
Paper and pencil
In many cases you will just need pencil and paper. Sometimes even the most sophisticated tools can't replace them.