Let's discuss ui designer job description and get to know what is the role of a UX designer.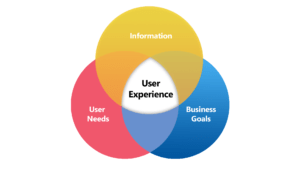 UX designer until recently used to be the profession of the future, now more and more often it is a position without which work on the project will not even start.
The simplest definition is "user experience designer" ("UX" comes from the user experience). However, there are many stages of work and many competences necessary to practice the profession of User Experience Designer.
In practice, UX Designer deals with designing websites (and all digital products) in such a way that they respond to the user's needs, and their use is intuitive and functional.
The usability designer also, in a way, acts as a liaison between the user and the client. It studies and analyzes the perspective of the target group, trying to weave its requirements into the project while maintaining business goals.
What UX Designer does?
You may see the position of "UX / UI Designer" in some job postings. What is the difference between UX and UI? Let's start from the beginning.
Designer's scope of duties can be divided into three areas:
UX Researcher: focuses on conducting research and interviews with users of a given product, and then prepares a report based on them. At this stage of work, the skills of attentive listening, observation of behavior and accurate drawing conclusions are useful.
UX Designer: his duties include designing interactions, mockups, developing strategies, prototyping, testing planning or creating information architecture.
UI Designer: Behind the word "UI" is an English user interface. UI Designer therefore creates visual elements that interact with a given group of recipients. Designer incl. selects colors, sets text layout, is responsible for the menu, peripheral devices and control panels.
Larger organizations use this distinction and recruit separately for each of the three positions. The smaller ones, in turn, are looking for a person who will combine all the competences described above. Most often, however, UX Designer takes part in each of the above-mentioned processes and must demonstrate comprehensive knowledge.